Library Programs (scroll down for additional programs)
The Gunnywolf-opening Spring 2019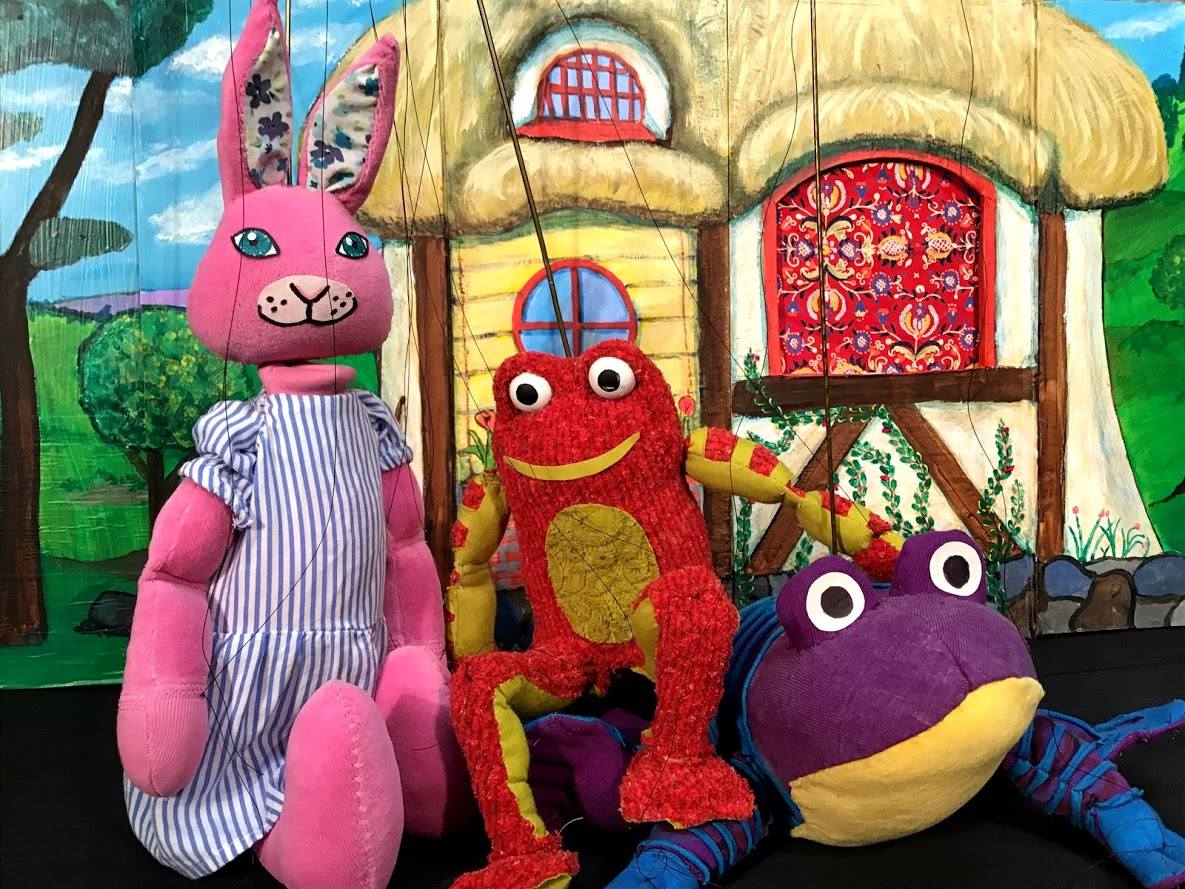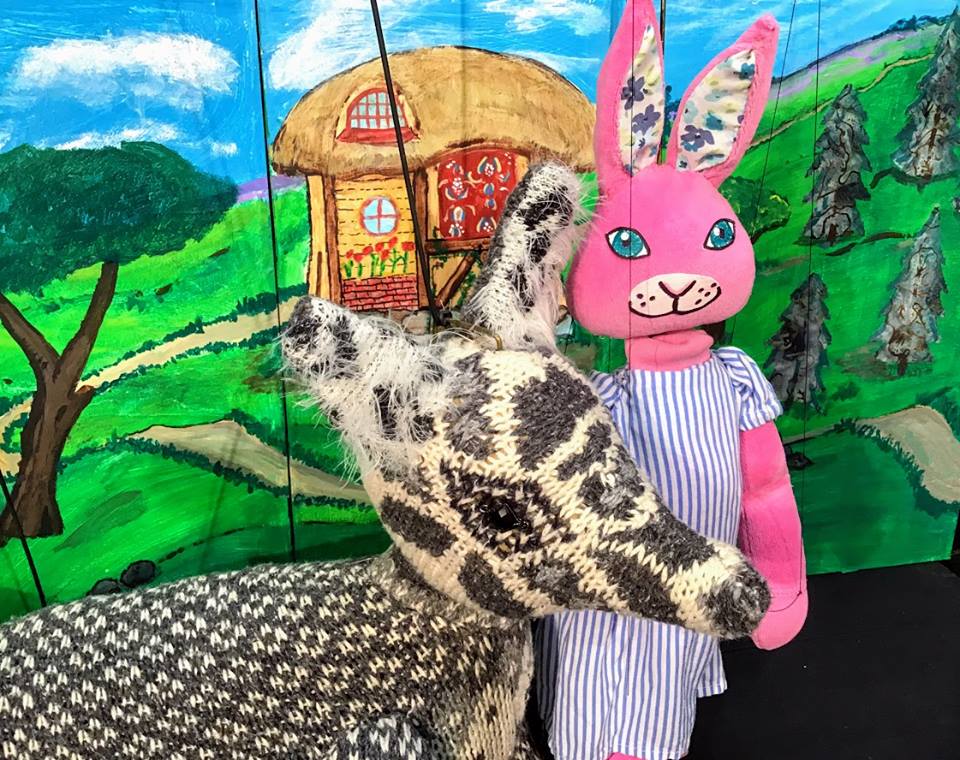 Little Rabbit goes into the forest to pick flowers even after her mother tells her not to. There she meets the Gunnywolf who wants her to sing him to sleep. Every time she stops singing, the Gunnywolf wakes up and wants another song. Meanwhile, Little Rabbit's froggie friends are working on their act with hilarious results. This musical show is presented with Bohemian style marionettes on a table top stage. Recommended for ages 3 and up.
Chanticleer the Rooster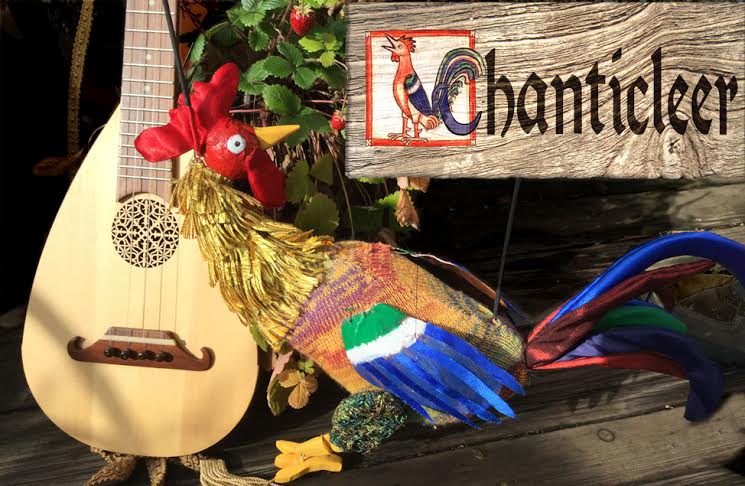 Magical Moonshine's newest addition to the Canterbury Collection is Chaucer's Canterbury tale about a rooster who is caught by the flattering fox...but foxes can be fooled as well. Assisting the beloved Chanticleer is a wise ant, as well as the pig, sheep, goat, dog, hen and farmer. Medieval costumes and live, ancient music (including a version of "Old MacDonald Had A Farm" from 1710!) make for a delightful and interactive family program. This production is inspired by the Kelmscott Chaucer from the McCune Art and Rare Book Collection, who are sponsors of the project.
The Three Little Pigs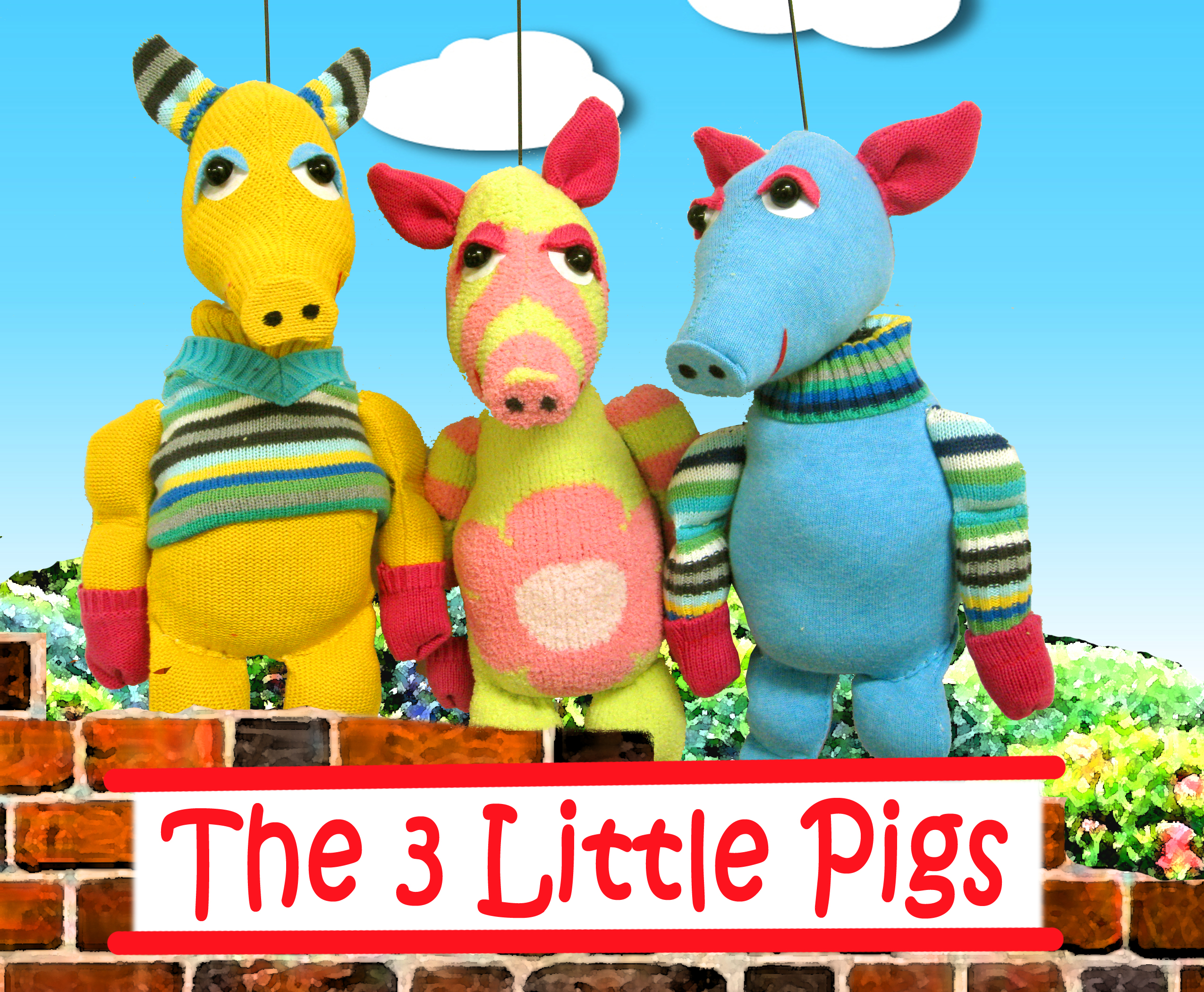 Three pigs set out to seek their fortunes with a bit of house building. Things don't go as planned in this creative retelling of the traditional story; houses collapse, pigs and wolves play together and audience members help the story along with lots of live music, singing, construction and laughter. Presented with traditional Bohemian style marionettes on a tabletop stage. This show runs about 40 minutes and is recommended for ages 3 and up.
__________________________________________
Puppylocks and the Three Bears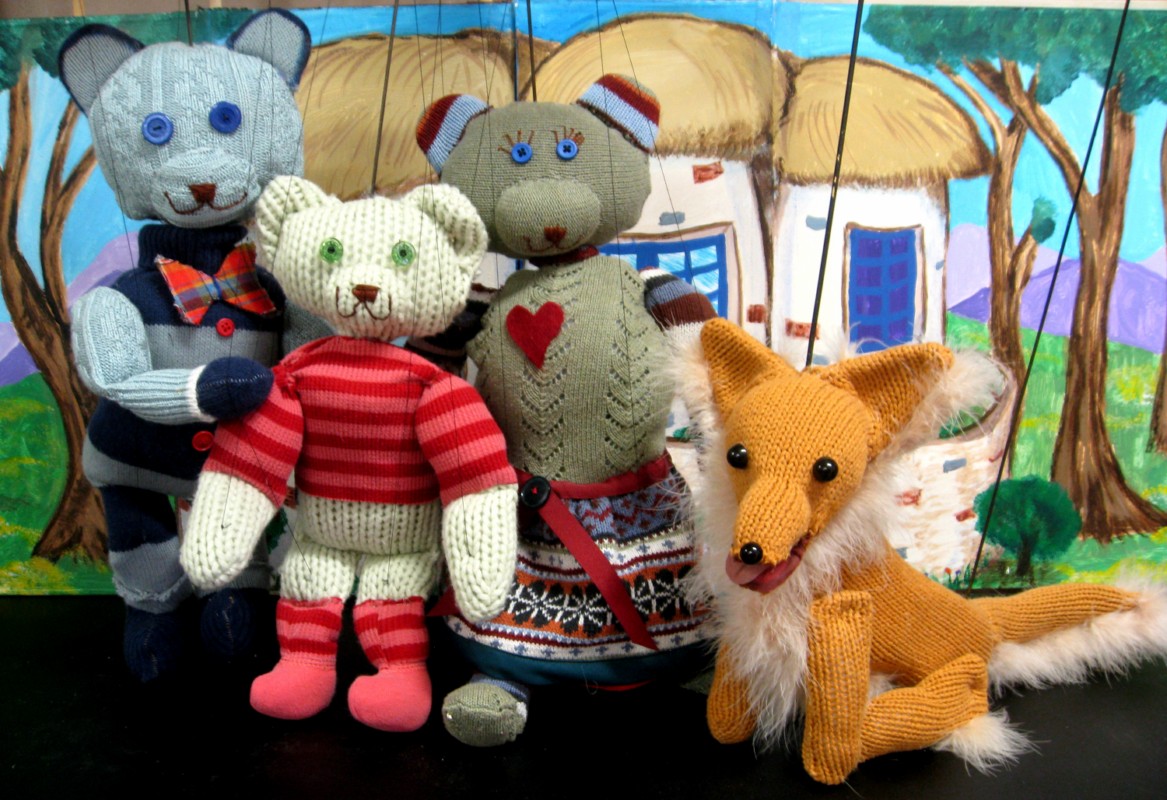 WHAT IF? What if the Three Bears were really Teddy Bears! And What if Goldilocks was not a little girl at all, but a golden, mischievous little dog? That is exactly the case is this very funny retelling of the traditional fairytale. Watch this impish little dog do everything wrong in the Bear's house while the bears are off to the TEDDYBEAR CIRCUS! Puppylocks is presented with traditional Bohemian style marionettes on a tabletop stage. It runs about 40 minutes and is highly recommended for ages 3 and up. Live music and singing.
The Golden Armadillo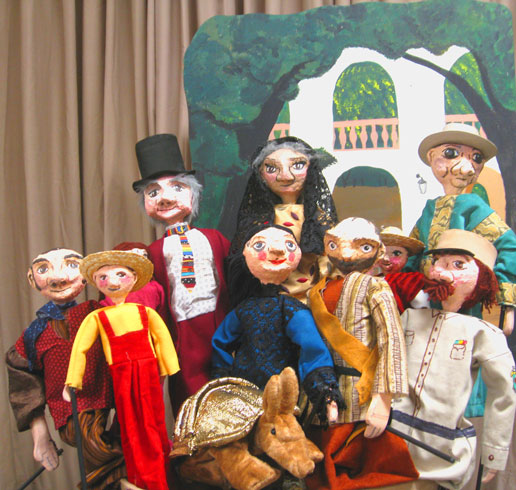 Set in old Mexico, "The Golden Armadillo" tells the tale of the Mayor's daughter who never smiled...that is until she saw the most amazing and hilarious sight! This participatory play has the audience members up and helping with the puppets, playing parts and "getting dramatic" in Spanish and English, right on the spot! No previous experience needed (with puppets nor Spanish.)
LIBRARY FAVORITE! The Puppet Man

In the Puppet Man, Michael walks around wearing the puppet stage in this very lively and hilarious show.

With the Puppet Man, Magical Moonshine Theatre's Michael Nelson creates his own version of traditional European street theatre. The performances are colorful, lively, spontaneous and ever-changing. In this selection of skits and bits selected from years of performing in the "strolling puppet stage" audiences, puppeteer and puppets respond to each other to create the play together in this uniquely exciting theatrical experience: The Puppet Show!
This is one of our most popular library shows. Audiences love it, it fits in most any space or situation, and the price is right.
_________________________________________________________________________________________
LIBRARY FAVORITE! Little Elephant Has A Ball
---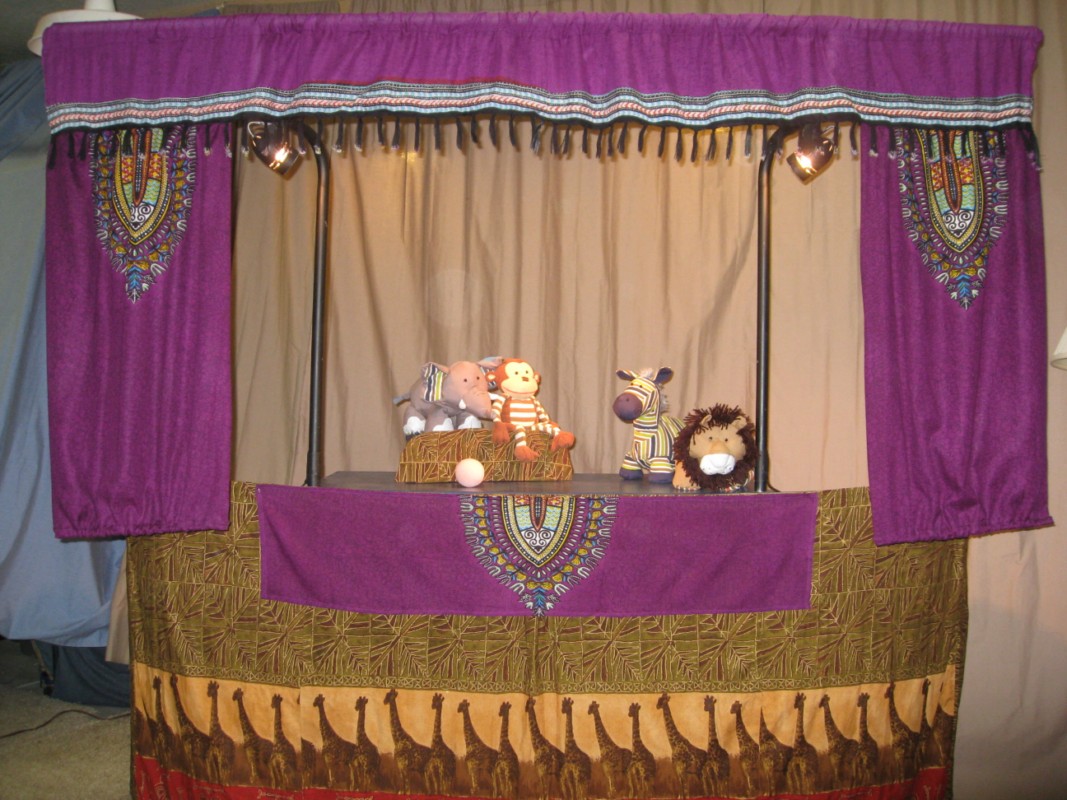 (Spanish English version available)
This table top presentation was designed for the Puppets In The Preschool Conference at Contra Costa College, and was created to be developmentally appropriate for preschool audiences. In the story, Little Elephant finds a ball, but when she goes to play with Monkey and Zebra, she discovers that they are much better players than she is and at first would rather play without her. With the prodding of Lion, the animals learn how to play together and appreciate each one's different skills with the ball. This funny and tender show includes live music on the ukelele and singing with children learning the songs and hand plays to join in, as well as helping the animals figure out how to solve their problems.

_________________________________________________________________________________________
LIBRARY FAVORITE! The Carnival Mask, A Participatory Perfomance
In this Spanish/English show, audience members get up on stage and play the puppets with Michael and Valerie to tell this exciting Mexican folktale filled with townsfolks, robbers, heros, and lots of laughs.

_________________________________________________________________________________________
Animal Folktales of the Americas
This is Magical Moonshine's award winning collection of mainstage productions based on traditional folktales, some of which have been performed by us for over 23 years. Live singing and music, puppets and mask. While more expensive than our offerings above, they are large, full stage shows that can be viewed by audiences of 500-1000 and have been enthusiastically received at a number of libraries with larger performing areas and audiences. For more information about the many programs in this series, click on the Animal Folktales title.
We do offer a substantial discount for these programs for libraries depending on the situation, location and number of performances (as much as $600.00 off.)
_________________________________________________________________________________________
tel: (707) 363-4573
Click here to send us an Email: mail@magicalmoonshine.org
Want to see a list of libraries where we have performed? CLICK HERE