Little Blue Moon Theatre at the Preetzer Papier Theater Treffen, September, 2005

REVIEWS AND INTERNATIONAL PRESS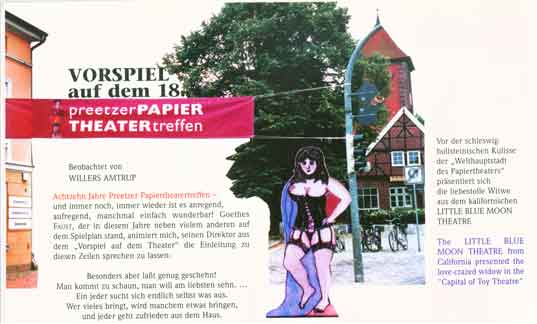 Above, page from the German paper theatre review "PapierTheater", no. 31, December 2005
Below is the Little Blue Moon Theatre review from "PapierTheater," written by Willers Amtrup, translation into English provided by the festival.
Prelude on the 18. Preetz Paper Theatre Festival
By Willers Amtrup
(Showing the Little Blue Moon section of a larger collection of reviews from the festival)
Tango for Tarzan / The Widow
Let's stay with performances in English. The Little Blue Moon Theatre with Michael and Valerie Nelson from the USA, presented Tango for Tarzan and The Widow (with a synopsis!) - two plays "only for adults". And their performance turned out to be a delight! Both actors had been puppet players for 25 years and had only recently started to deal with Paper Theatre. Michael Nelson drew the scenes and figures himself. First they performed the story of a young woman photographer who visited a Natural History Museum to look at the model of a stuffed rhinoceros, almost extinct as its horn had been considered an aphrodisiac. The photographer by chance discovered and opened a mysterious door - and immediately the character of the story changed. The vision of the young woman appeared, who had been kidnapped, undressed and (very decently) pestered sexually by animal poachers. In the young woman's (rather desired) moment of need, Tarzan appeared to the rescue, swung down to her on a tree vine and overpowered the poachers. Immediately a passionate love affair began with Tarzan, during which the young woman, almost like an acrobat, performed at times on the back of a huge rhinoceros. Told in a straightforward manner, it was never pornographic, but very witty - eroticism at its best on Paper Theatre. The same applied to the following ballad very wittily sung by Valerie Nelson about a lonely widow, whose main business it was to "lay" with one man after the other. Even the Devil, to whom she promised her soul for a successful night, gave up in the face of her overpowering desire and explained that now he understood why her husband had passed on. Again it was pure eroticism, without being pornographic, but told with a strong sense of "tongue in cheek."
And below, from the online international paper theatre magazine, part of a review by Harry Oudekerk: